Admission Criteria
Be insured through traditional Medicare A, or a contracted HMO/PPO/Medicare Advantage plan.
Have a three-day qualifying stay in an acute hospital.
Require daily skilled nursing services or oversight from a licensed nurse or therapist.
Be able to participate in treatment and make measurable progress during the course of care.
Have a solid discharge plan and arrangements for post-treatment care.
Overview
Our services benefit patients who require temporary skilled oversight following their stay in an acute hospital. We offer comprehensive medical rehabilitation – including medical management by our on-site physicians, licensed nursing care, physical, occupational, and speech therapies.
Our staff recognizes the importance of communication between levels of care as patients transition from the hospital setting, to skilled nursing, and home. Our staff therefore actively communicates with your hospital physician/surgeon and your personal physician. This process, known as the transitional care model, can help reduce medical errors while providing a comprehensive and interdisciplinary approach to your care.
Accommodation
Located in the modern Friedman Pavilion on San Francisco Campus for Jewish Living, the short-term and rehab unit offers high-quality accommodations in a welcoming and comfortable environment.
Most patient rooms are single occupancy, with individual bathroom/shower, adjustable electric bed, flat-screen television, a DVD player, private phone line, a desk and sitting area for guests, ample closet space, and views of the San Francisco hills.
Private rooms are available on a first-come, first-served basis at no additional charge to patients.
We offer a limited number of large, semi-private rooms (maximum two patients per room) with similar accommodations.
Admission to Jewish Home & Rehab Center as a patient or a resident is not limited by race, color, national origin, religion, sex, sexual orientation, gender identity, age, or disability.
Rehabilitation services
We offer traditional physical, occupational, and speech therapies, administered by highly experienced and licensed therapists who specialize in working with older adults.
Individual therapy programs are created to meet each patient's clinical, physical, and personal goals following a medical condition or surgery.
We strive to help patients return to their highest level of functioning possible. In addition, our Rehabilitation department can continue to provide outpatient therapy services following an inpatient stay.
Our rehabilitation gym utilizes state-of-the-art equipment and treatments to help patients regain their mobility and increase functioning. We also offer a supervised fitness center for general exercise.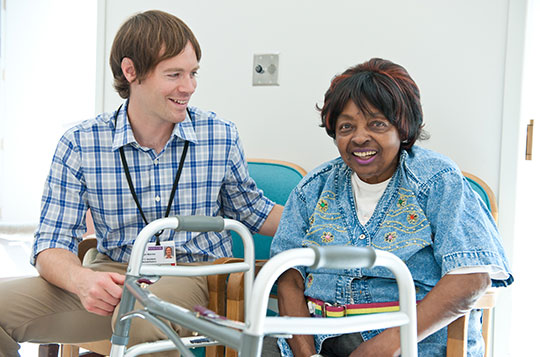 Medical services and clinics
We are committed to providing exceptional medical care to our patients and residents. Unlike many other facilities, we offer on-site clinics ranging from dentistry and ophthalmology to audiology and massage therapy. Because these services are on our campus, patients are spared expensive transportation costs often not covered by insurance.
Our on-site licensed pharmacy ensures ready access to on-site pharmacists regarding medication administration, management, and questions.
Complicated medical conditions, including IV therapy, wound care and pain management are expertly handled by our nursing and medical staff.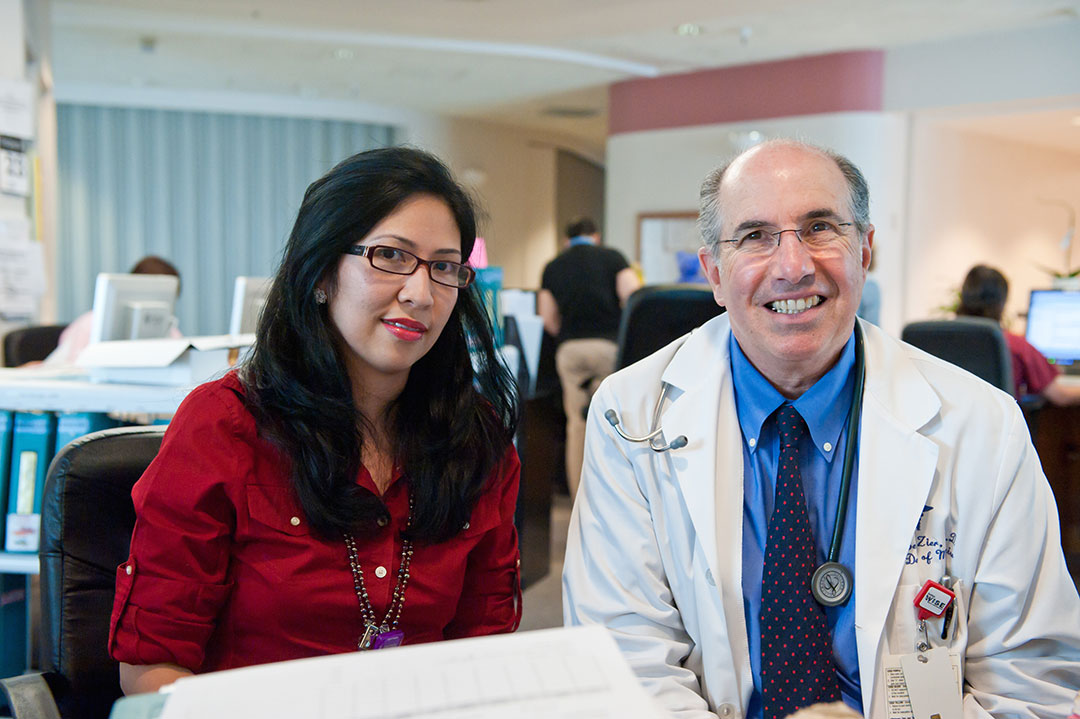 Dining
Meals prepared from fresh local produce and high-quality meats grace the plates in the dining room. All patients are evaluated by an in-house registered dietitian to assess their individual nutritional needs.
Patients and their guests may also enjoy our café, which serves brewed coffee, lattes, mochas, pastries, and tasty homemade dishes, such as lasagna and quiche.
Amenities
Take pleasure in numerous recreational activities, amenities, and opportunities: painting and ceramics in the Eugene Friend & Julian Davis Creative Arts Center; keeping current at a computer terminal; enjoying a concert, a movie or a lecture; socializing around the afternoon coffee bar.
As we are a pet-friendly community, you can visit with our in-house rabbits and birds, or get to know a volunteer's or an employee's dog. Your family member may also bring your own vaccinated and well-behaved pet to visit during your short-term stay.
Enjoy a personal visit as you stroll around our landscaped gardens and fountain area.
After your appointment at our full-service beauty and barber shop, a stop at the gift shop may be in order, where clothing, jewelry, gifts, and personal care products are available.
Spiritual Life
San Francisco Campus for Jewish Living is founded on Jewish tradition, which encompasses respect for elders and responsibility for the welfare of others.
Admission is not limited by religious or cultural affiliation. In recognition of our Jewish heritage, the holding of Friday, Sabbath, and holiday services and programming provide opportunities to join in and feel a sense of community.
Our full-time rabbi is available for all patients and their families, and is happy to assist those of other faiths with arranging private services.