CafÉ and Gift Shop
Although "oy vey" is a Yiddish phrase traditionally expressing dismay, exasperation or surprise, at San Francisco Campus for Jewish Living it takes on a different meaning. Here, it's associated with edibles sweet and savory, or goodies to own or to gift.
At our Oy Vey Café and Gift Shop (temporarily located in our cultural center while we undergo construction), staff and volunteers are on hand to give great customer service. Enjoy noshing on seasonal items at a table or make it a grab and go. Find that special gift for your family member and friend, or even yourself, as you browse the selection of clothing and accessories, greeting cards, jewelry, stuffed animals, sundries, specialty food items, and Judaica.
Phone orders
Phone orders can be placed from 10:00 a.m. to 2:00 p.m., Monday to Friday. The gift shop manager will arrange delivery to residents.
Call 415.469.2331
Volunteers Needed in the Gift Shop. We are seeking volunteer assistance on Fridays from 10:00 a.m. to 2:30 p.m. to help customers with purchases, ring up sales, and keep the shop tidy and organized. Floaters and vacation relief are also needed. Retail experience is helpful but not necessary. Contact gift shop manager for more information.
Celebrating your birthday? We are pleased to offer a birthday bonus discount to our residents and staff! Visit the gift shop on the day of your birthday for a special surprise discount. This applies to one item only, and does not include food products or greeting cards. If your birthday falls on a Saturday, come in either the Friday or Sunday that falls around your special day.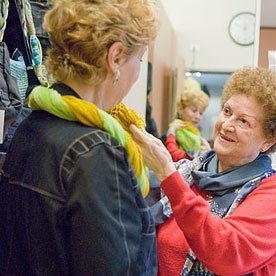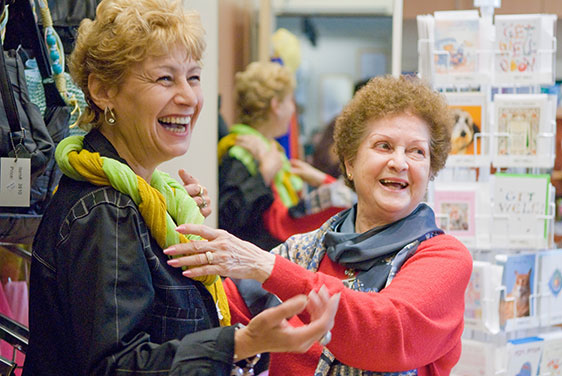 Gift Shop Hours
Monday – Friday
10:00 a.m. – 2:30 p.m.
Sunday
11:00 a.m. – 2:30 p.m.
Closed on Saturday
Oy Vey CafÉ Hours
Monday – Friday
8:00 a.m. – 2:30 p.m.
Sunday
11:00 a.m. – 2:30 p.m.
Closed on Saturday
Just arrived
Scarf City- huge selection of spring and summer scarves - lacey and lightweight, solid silks and casual cottons.
Organic honey, fruit spreads, and flavored olive oil from Italy - perfect to sweeten your holiday table.
Beaded hair accessories. Wear them so many ways - as hair ties, bracelets or even to adorn hats.
Fair trade from Guatemala - scarves, earrings, jewelry and home decorations.
Women's clothing and accessories - great selection of tops, blouses, sweaters and purses...perfect for spring.
Moral Eyes - fashionable readers, only $8.00
Invisibelt - holds it up and in,as seen in Glamour magazine.
Wine Clutch - holds a single bottle of wine and includes corkscrew, insulated interior, small, lightweight and very trendy! Great gift!
Coloring books - new designs for adults, fun and relaxing!
Who needs the mall when you have the Jewish Home's gift shop? New merchandise arrives daily, so come on in. Your support benefits our residents' programs and services.
© 2004-2018 San Francisco Campus for Jewish Living 302 Silver Avenue, San Francisco, CA 94112 415.334.2500