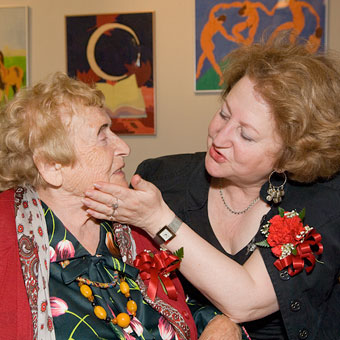 Remember the special people in your life at those special times of the year.
Tribute Cards for family and friends
It's as easy as:
1. Select your card(s)
Our card service provides 12 beautiful designs to choose from, featuring artwork created by residents.
2. Provide name(s)
Provide us with the name of an individual, or a list of your family and friends. We will prepare your card(s) with your personal message and send it in time to commemorate the special day you indicate.
3. Make your contribution
The minimum contribution for a single card is $18. Order five or more cards, and the price per card is just $15. All card purchases are tax-deductible. Best of all, every card you buy helps to enrich the lives of our residents.
Currently available cards
Click for full image
Portals
Card order number: 201

Pensée
Card order number: 202

Canary
Card order number: 203

Outer Limits
Card order number: 204

We Like It
Card order number: 205

When You're Smiling
Card order number: 206

On The Up
Card order number: 207

Back to the Beginning
Card order number: 208

Faded Beauties
Card order number: 209

Bartletts
Card order number: 210

Life's Journey
Card order number: 211
Disclaimer
Website content that still bears the names Jewish Home of San Francisco and Jewish Home reflects material that is in circulation or was published before we became San Francisco Campus for Jewish Living – on which Jewish Home & Rehab Center, our acute geriatric psychiatry hospital, and the new Lynne & Roy M. Frank Residences and Byer Square are located. Wherever possible, new and updated website content will bear our new names.
© 2004-2018 San Francisco Campus for Jewish Living 302 Silver Avenue, San Francisco, CA 94112 415.334.2500